CNC Plunge grinding | X series
X-3550
CYLINDRICAL GRINDER
INTRODUCTION
The X series CNC cylindrical grinding machine integrates advanced design and innovative features, offering efficient, precise, and flexible machining solutions. This grinder can meet various processing needs and ensure high-quality results for small or large components.
The X-axis and Z-axis of the X series CNC cylindrical grinding machine adopt a cross-slide design, effectively reducing the footprint and axial travel, saving production space. The high-rigidity machine body and the heavy-duty spindle and tailstock significantly increase the component load capacity.
The high rigidity machine body ensures stability during grinding, providing high-quality machining results. The operating system is equipped with a high-performance CNC control system and a built-in graphical user interface (GUI), making setup easy and enabling users to operate with ease. The grinding applications are extensive, offering customers the most suitable machining solutions.
| CAPACITY
Swivel Over Table: Ø370 mm
Distance Between Center: 500 mm mm
Max. Grinding Dia.: Ø350 mm
Max. Grinding Length: 500 mm
MACHINE FEATURE
---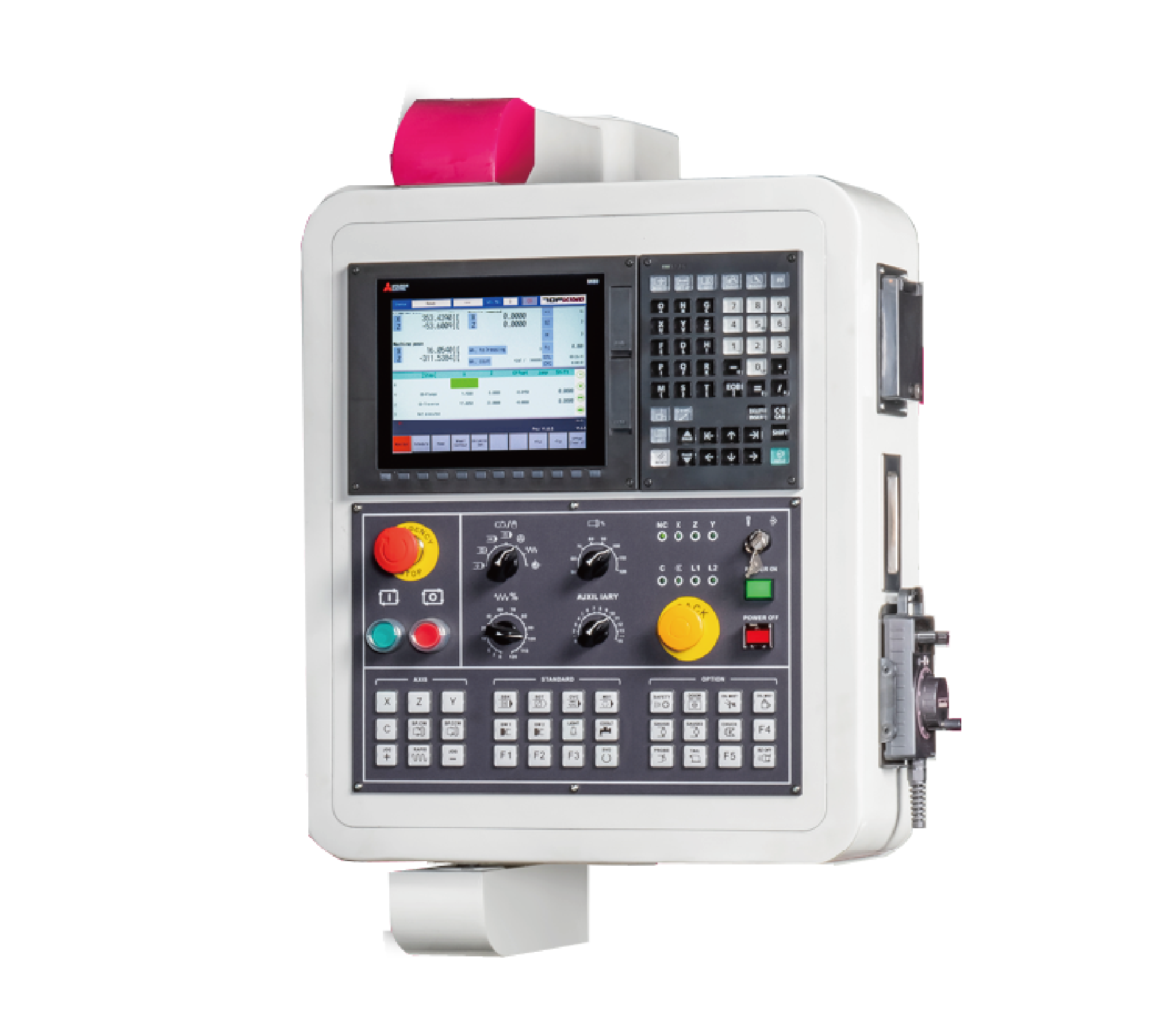 USER FRIENDLY OPERATION SYSTEM
The built-in advanced CNC control system is equipped with GUI. The operator can divide the complex component into several grinding processes through the guidance of the graphic, and simplify the process editing of grinding, and dressing in a numerical way. No complicated programming (G code, M code) is required, and the most convenient operating environment is provided.
RIGID MACHINE BASE
■ High rigidity machine base made of Meehanite cast iron through annealing and aging treatment.
■ Slideway though high-frequency hardening and precision grinding process. Machine base with stable material and strengthen construction for deformation-free and outstanding wear resistance.
■ The machine's structure is different from the light weight design philosophy in the past; it substantially consolidates the rigidity of body and parts structure, takes being more stable as the appeal, and adopts thick and solid sliding seat mechanism, slide way 1 V 1 flat structure providing the best precision and stability of moving when doing grinding.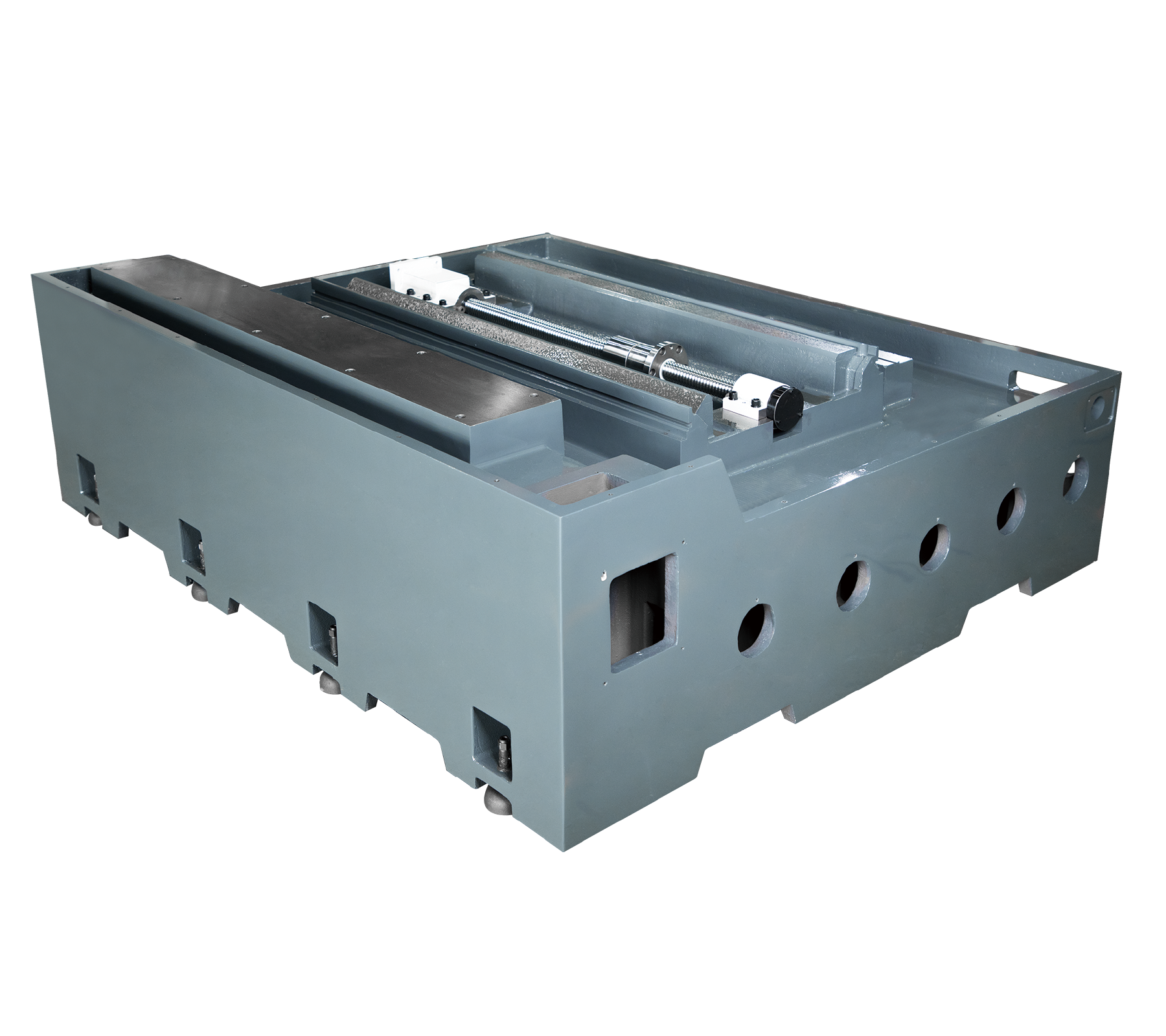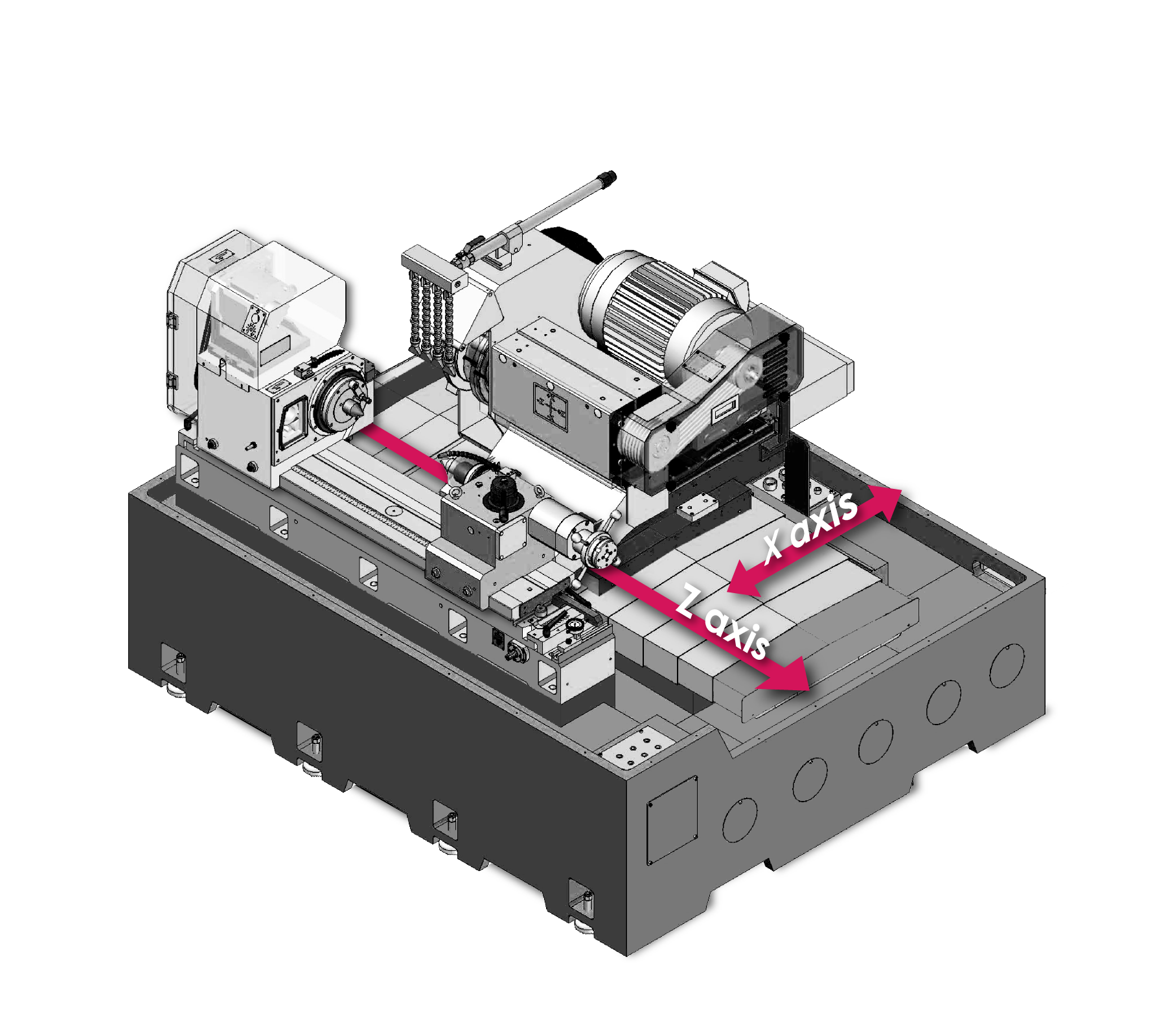 WORK TABLE
■ The work table is permanently bolted to the machine. The cross slide design is adopted to reduce the travels. It can improve working speed and precision stability.

CROSS-SLIDER DESIGN
■ X axis and Z axis are design as cross-slider to reduce machine space.
■ Two axes cover by enclosed telescopic covers. To protect the transmission structure and prevent contamination from grinding debris and coolant.
HIGH RIGIDITY SLIDEWAY
The X-35 series adopts a high-rigidity hard rail structure design, ensuring continuous maintenance of outstanding precision and stable machining quality under high load processing. Paired with large-diameter grade ball screws, it further enhances the load capacity, enabling the machine to perform exceptionally well in machining heavy components. This optimized design guarantees smooth movement of the grinding wheel axis and worktable, reducing vibrations during the machining process and ensuring superior machining quality.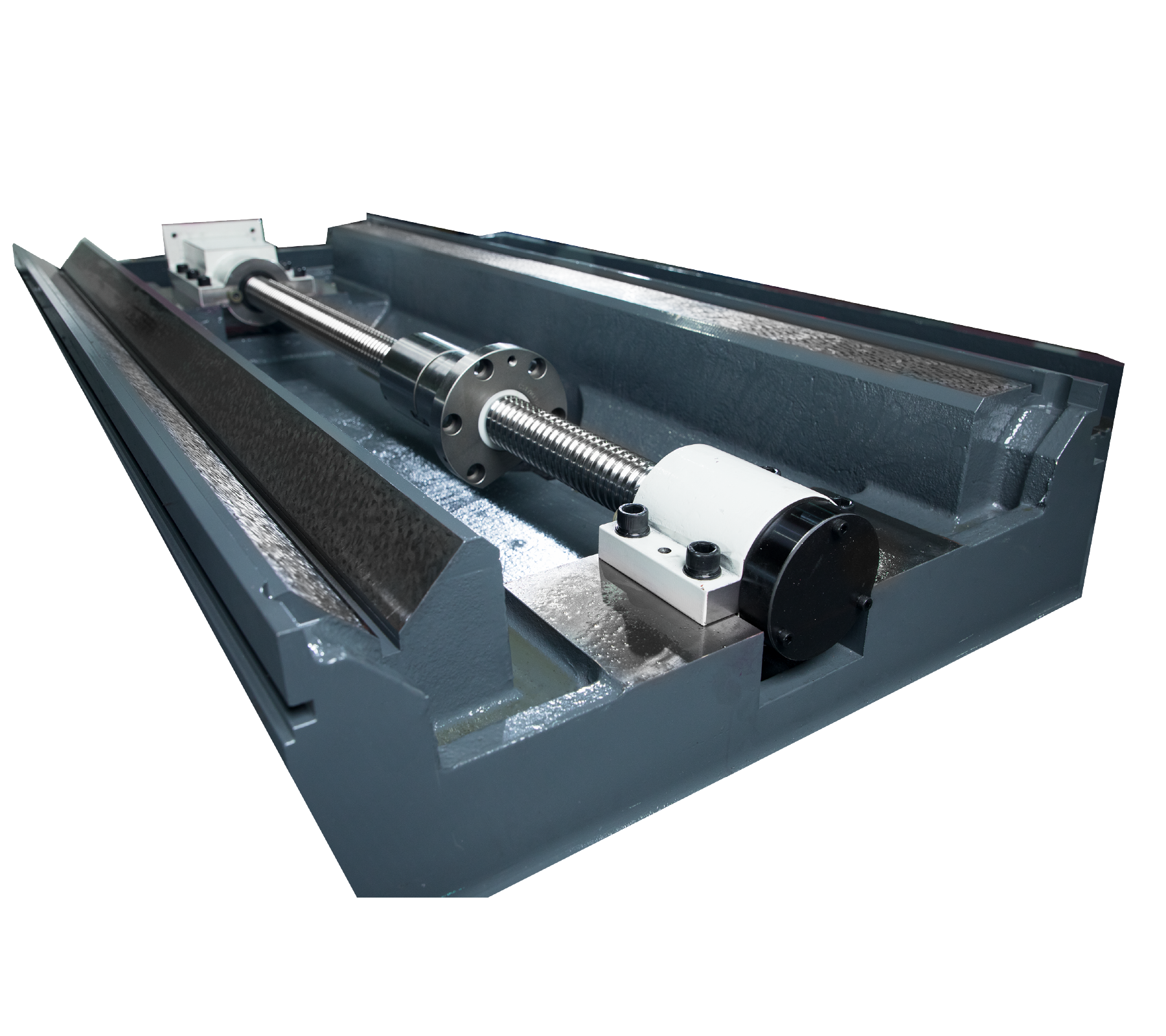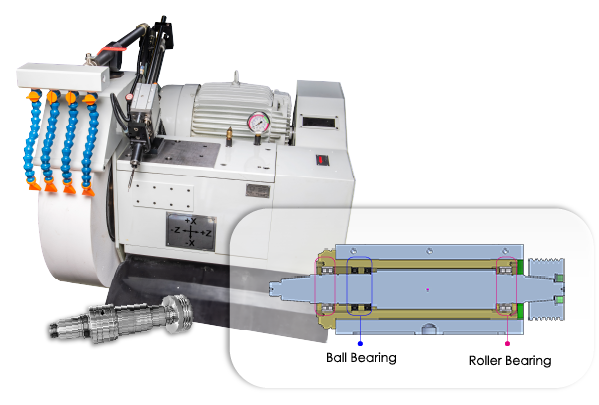 WHEELHEAD CONSTRUCTION
■ Bearing type of G.W. spindle adopts precision bearings, which has a long service life and is relatively easy to replace, repair and maintain.
■ The G.W. spindle is made of high-quality alloy steel SNCM-220, which has undergone multiple treatments such as normalization, quenching and tempering, carburizing heat treatment, and cryogenic treatment. Afterwards, precision grinding and mirror treatment are carried out, and the surface hardness reaches above HRC62°. Guarantee no deformation, wear resistance, high precision forever.
WORKHEAD AND TAILSTOCK
■ The workhead and tailstock are specially designed for heavy component, with strong structural rigidity, which increases the overall load capacity.
■ The workhead is driven by a servo motor with step-less variable speed change.
■ Hydraulic tailstock (opt.) with support for easy operation.
■ Both the workhead and the tailstock are designed with flat air pressure design, which is easy to move, reduces friction and increase using life.
■ The cooling system is installed in the center to prevent the contact surface of the center hole from being heated and deformed.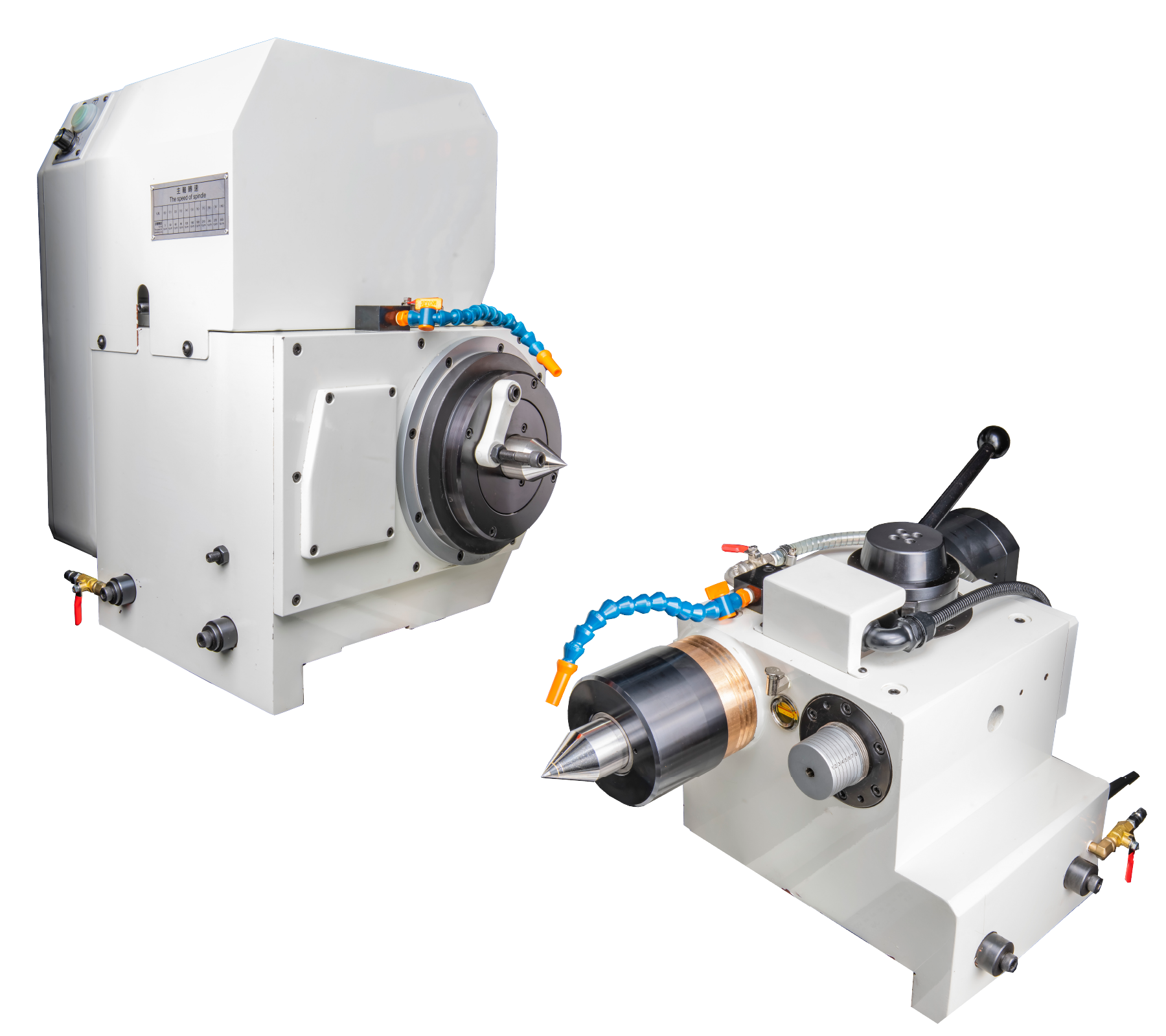 DIAMOND TOOL HOLDER MOUNTED ON WORK TABLE
(STANDARD FOR X-35 SERIES)
■ Dressing device is fixed on the side of the swivelling working table. It can reduce the error caused by re-calibrating the dressing position due to the adjustment of the angle of the work table, and improves efficiency.
■ Diversified diamond tool holder types can be selected according to the workpiece requirements.
GRINDING CYCLE
---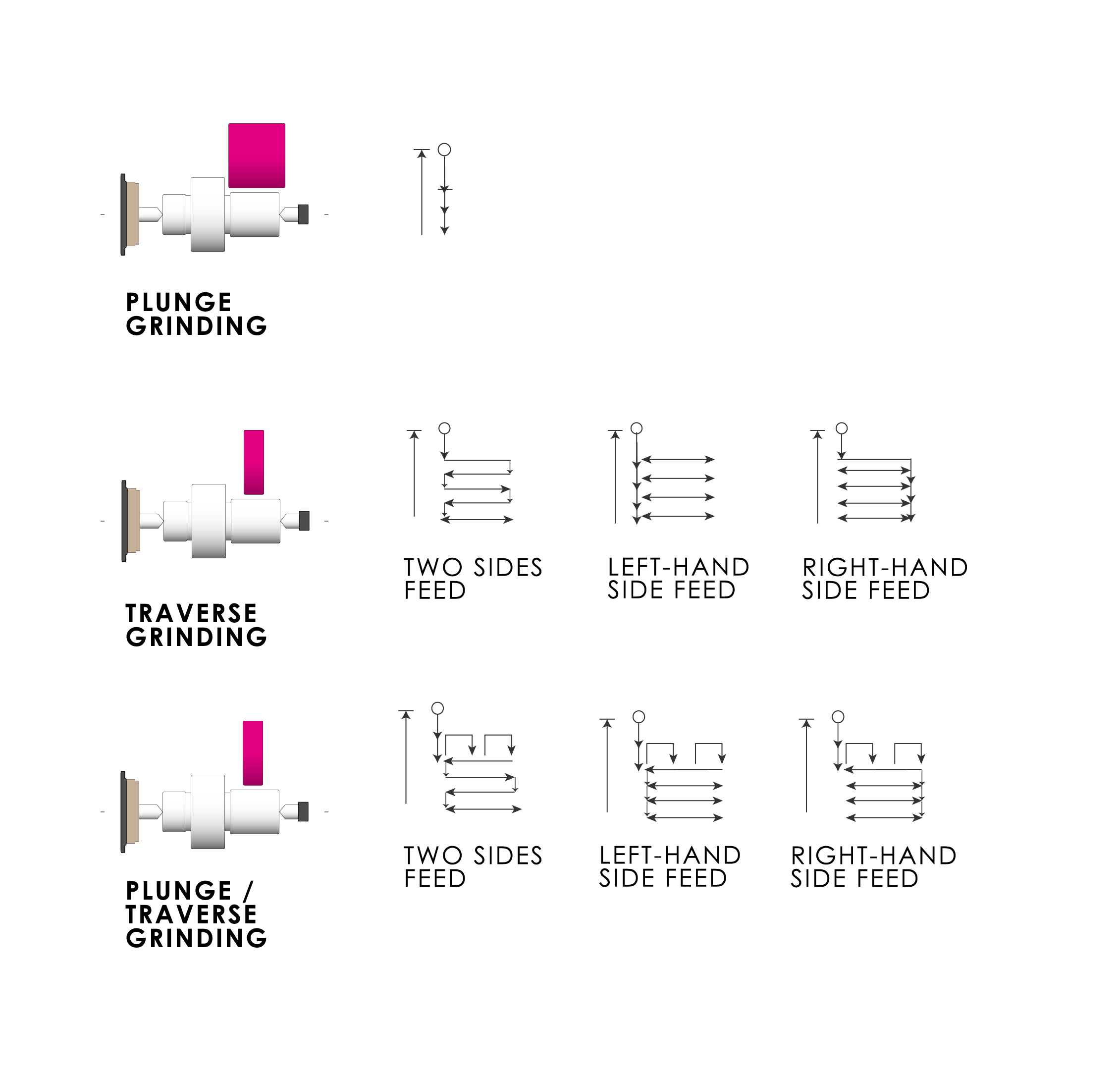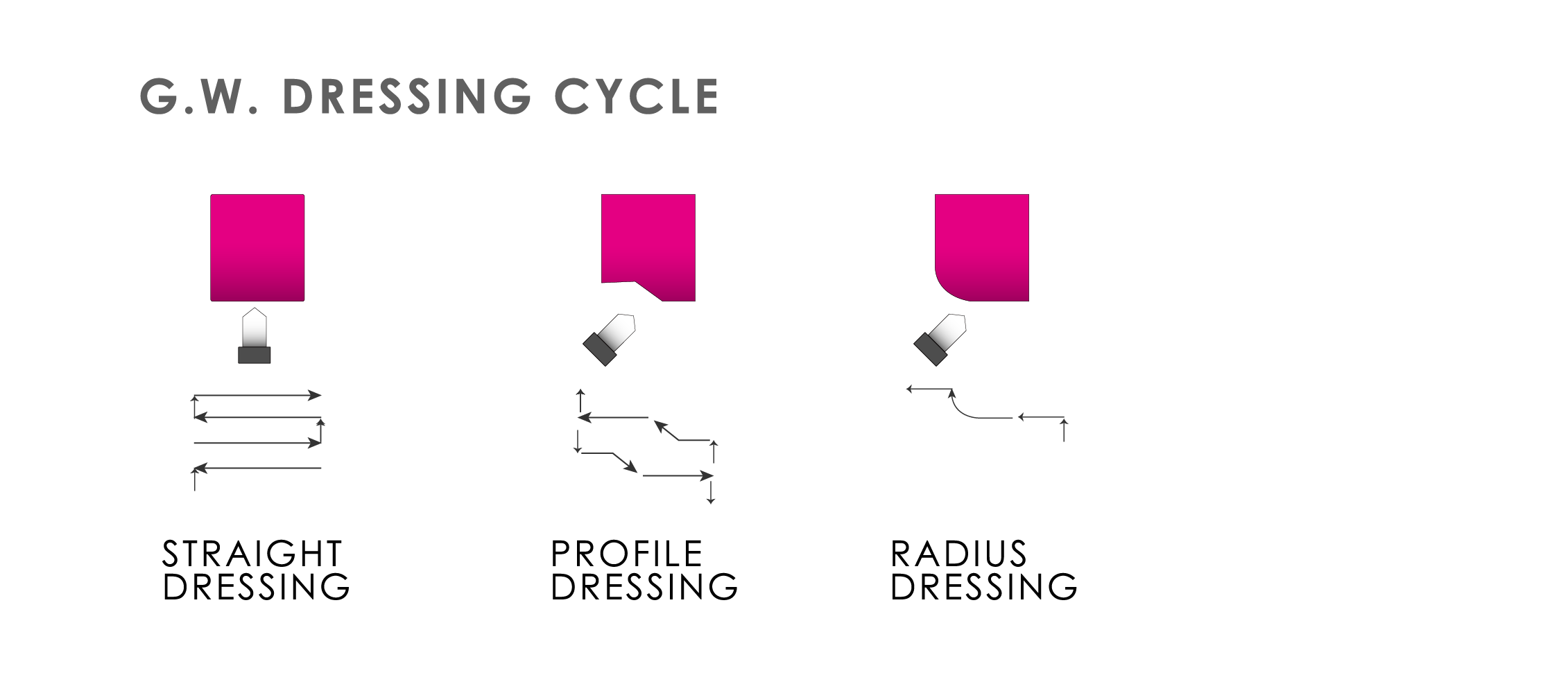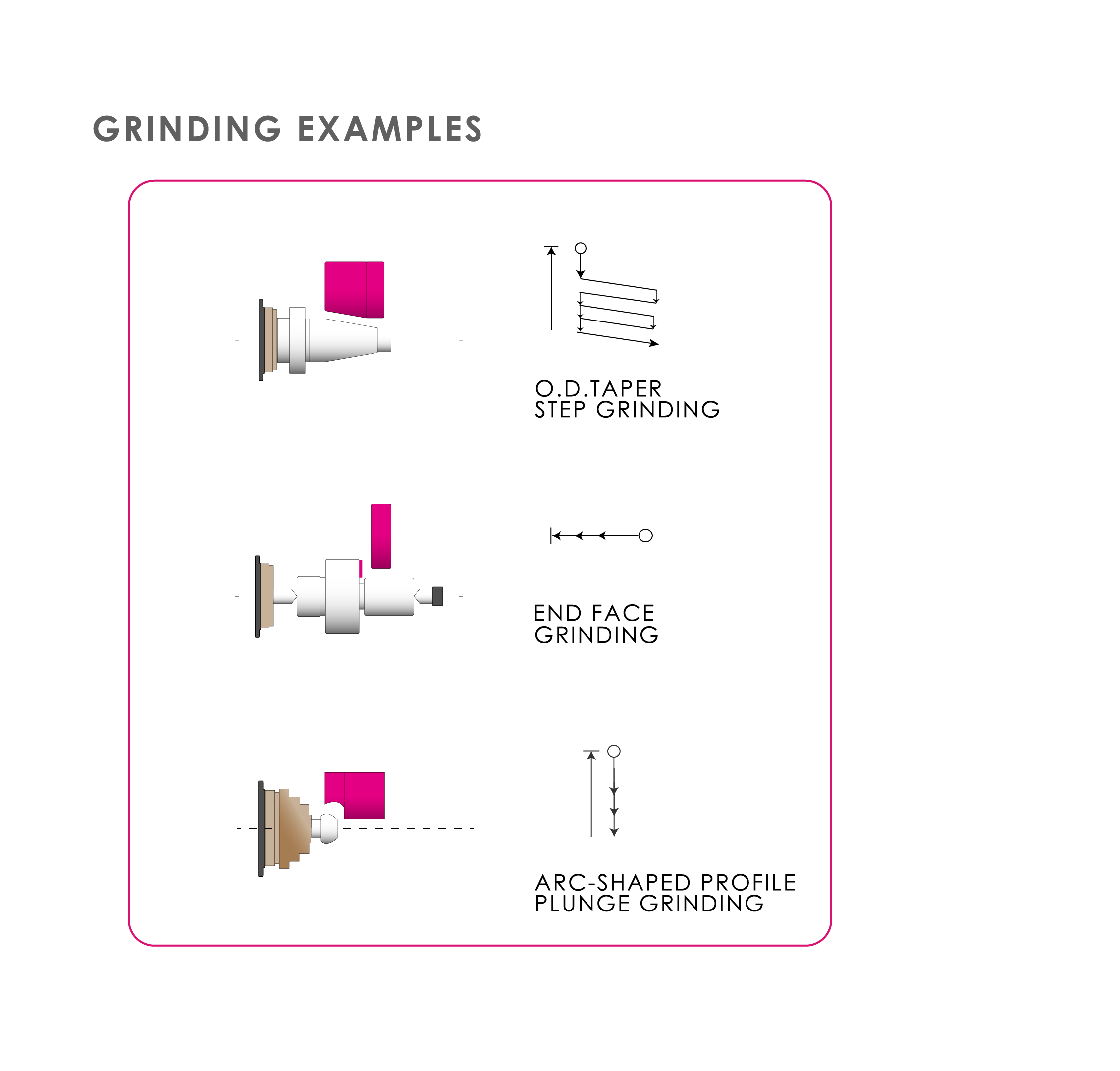 SPECIFICATION
Capacity
Swing Over Table
Ø370 mm
Distance Between Centers
500 mm
Max. Grinding Diameter
Ø350 mm
Max. Grinding Length
500 mm
Max. Load Held Between Centers
200 kg
Center Height (from table to center tip)
185 mm
Grinding Wheel
Size (O.D. x Width x I.D.)
Ø610 x 50 x Ø254 mm
Linear Velocity
45 m/sec
Worktable
Swiveling Angle
0° ~ 3°
Workhead
Swiveling Angle
Fixed Type
Center Tapper
MT. No. 5
Spindle Speed
10 ~ 300 rpm
Max. Load of Spindle (tool holder included)
35 kgs (Max. Length: 150 mm)
Tailstock
Center Tapper
MT. No. 5
Center Moving
Manual type
Tailstock Stroke
60 mm
X-axis Travel
Max. Travel
300 mm
Rapid Feedrate Speed
6000 mm/Min
Auto. Feeding Speed
0.001 ~ 2000 mm/Min
Min. Feeding Setting
0.001 mm
Z-axis Travel
Max. Travel
750 mm
Rapid Feedrate Speed
6000 mm/Min
Auto. Feeding Speed
0.001 ~ 2000 mm/Min
Min. Feeding Setting
0.001 mm
Drive Motors
Grinding Wheel Spindle
11 kW
Workhead Spindle Motor (servo motor)
2.9 kW
Wheelhead Feed X-axis (servo motor)
3.5 kW
Table Feed X-axis (servo motor)
3.5 kW
Lubrication Hydraulic Motor
0.075 kW
Hydraulic Pump
0.37 kW
Coolant Pump
0.37 kW
Tank Capacities
Lubrication Tank (Guideway)
15 L
Lubrication Tank (Optional)
18 L
Coolant Tank
160 L
Machine
Dimension
3670 x 3450 x 2600 mm
Net Weight
8000 kg
Center Height (from floor to center tip)
1130 mm
* The mentioned specifications & dimensions are subject to change without notice.
ACCESSORIES
---
STANDARD ACCESSORIES
■ CNC Controller (Brand: Mitsubishi) x 1set
■ Grinding Wheel and Flange x 1 set
■ Carbide Tipped Work Centers (2 pcs/set) x 1
■ Diamond Tool Holder ( tailstock mounted type) x 1 set (for X-25)
■ Diamond Tool Holder ( worktable mounted type) x 1 set (for X-35)
■ Jib Crane for Loading / Unloading G.W. (for X-35)
■ Linear Scale for X-axis x 1 set
■ Grinding Wheel Inverter x 1 set
■ Electric System x 1 set
■ Fully Enclosed Splash Guard x 1 set
■ Hydraulic System x 1 set
■ Coolant System x 1 set
■ Work Lamp x 1 set
■ Tools (Leveling pad) and Tool Box x 1 set
OPTIONAL ACCESSORIES
■ Hydraulic Tailstock
■ Cam-locked Driving Dogs
■ Work Holder 2 pcs/set
■ 2-point Steady Rest
■ Adjustable 3-point Steady Rest
■ Adjustable 3-jaw Scroll Chuck
■ Adjustable 4-jaw Scroll Chuck
■ Wheel Balancing Stand and Arbor
■ Auto. Grinding Wheel Balancer
■ Spare Grinding Wheel and Flange
■ Diamond Roller Dressing Device (worktable mounted type)
■ Diamond Roller Dressing Device (tailstock mounted type)
■ Touch Probe Gauge
■ Auto. In-Process Gauge
■ Gap Control
■ Linear Scale for Z-axis
■ Magnetic Coolant Separator
■ Paper Filter
■ Oil Mist Collector
VIDEO
---