Hydrostatic NC series
H-4520-NC
CENTERLESS GRINDER
INTRODUCTION
The H series of centerless grinder shows TOPKING's latest design concept. Its G.W. spindle, R.W. spindle and R.W. lower slider (infeed axis) all adopt precise hydrostatic structure. The minimum setting value of feed rate can be 0.0005 mm to meet the customer's requirements for components roundness, surface roughness, and processing size with its high precision and high speed performance.
| CAPACITY
Standard Grinding Range (dia.): Ø1 ~ Ø45 mm
Grinding Wheel (O.D. x width x I.D.): Ø455 x 205 x Ø228.6 mm
G.W. Speed: 1800 rpm
Regulating Wheel (O.D. x width x I.D.): Ø255 x 205 x Ø127 mm
R.W. Speed: 10 ~ 300 rpm
Max. Infeed Length: 205 mm
MACHINE FEATURE
---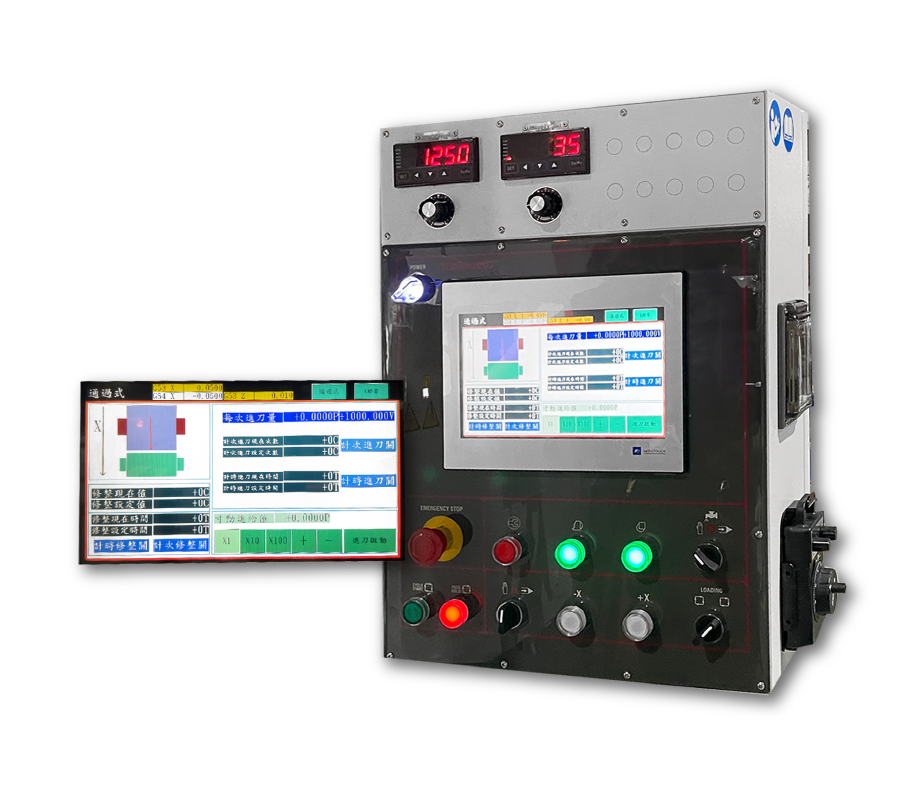 HIGH-PERFORMANCE GRAPHICAL USER INTERFACE
■ The control system with a teach-in Graphical User Interface(GUI) without program editing, provides the most convenient operate environment.
■ HMI with touch screen, user interface embeds shortcut keys for micro-feeding adjustment. It's easy to adjust the grinding size.
RIGID MACHINE BASE
■ The machine structure is made of high-quality Meehanite cast iron, which is processed after being heat treated and stress relieved before machining. The slide is hardened by high frequency and precision ground. The material of the machine structure is stable, has no doubt of deformation, and has excellent wear resistance.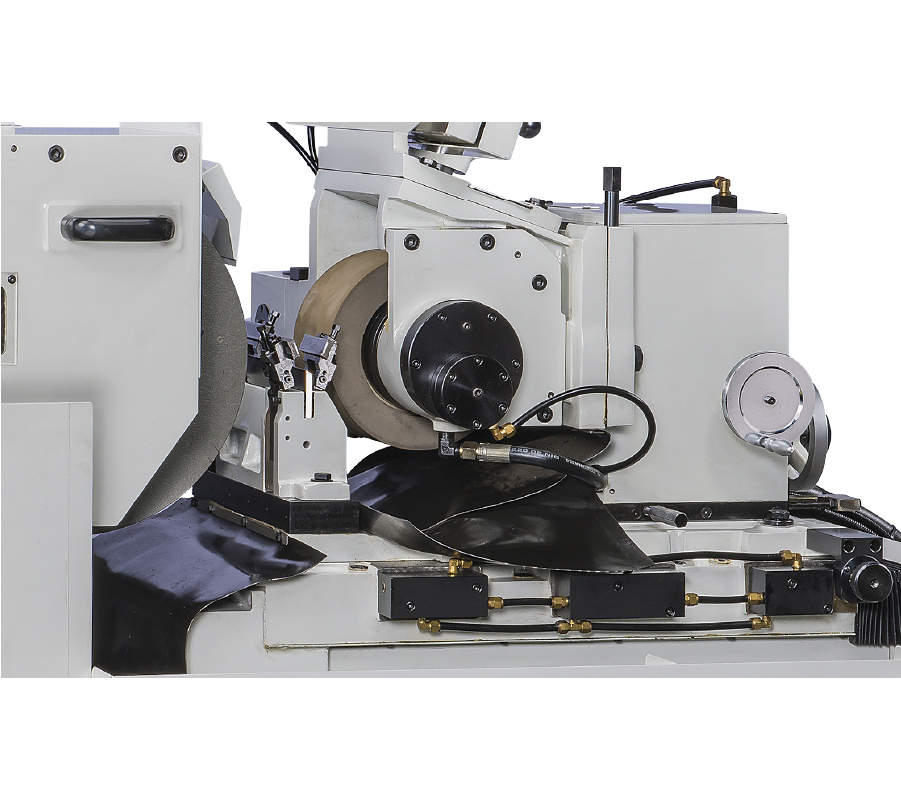 ADVANTAGE OF HYDROSTATIC SPINDLE AND SLIDE RAIL
■ No abrasion between metal to metal, improving the service life of the machine.
■ Extremely low metal friction. Low-temperature rise during processing, not easy to deform, improves processing stability and component accuracy.
■ High-pressure oil film wraps around the spindle, suitable for high-speed rotation.
■ High-precision application and constant rotation ensure rotation accuracy.
OIL COOLANT SYSTEM
■ The oil coolant system is equipped with an oil cooler to effectively maintain a constant oil temperature and prevent the spindle from affecting the machining accuracy due to changes in oil temperature.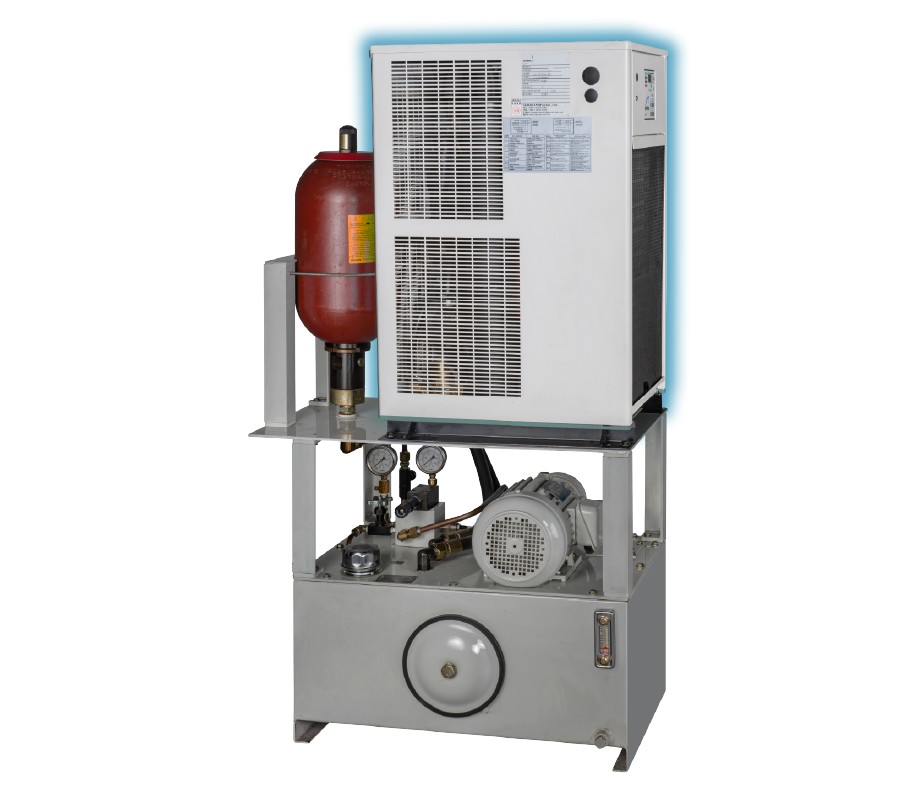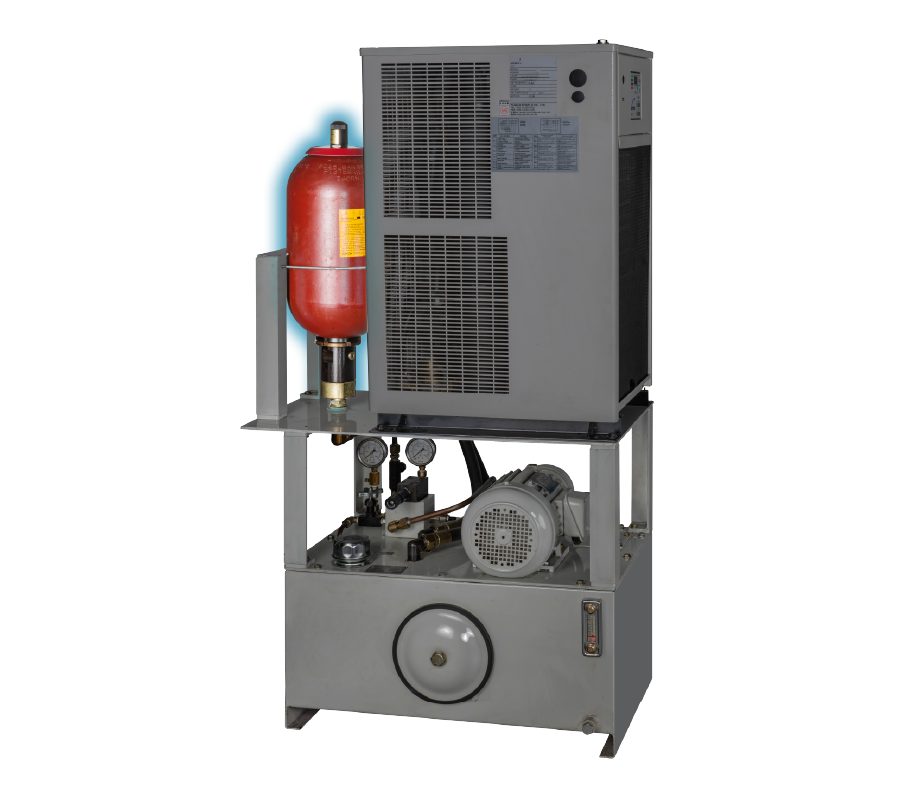 ACCUMULATOR FOR PROTECTION DEVICE
■ The special pressure accumulator design can make the hydrostatic oil return to the hydrostatic system of the main shaft when the pressure drops due to power failure. It can avoid the damage caused by the momentary loss of static pressure oil film caused by power failure when the spindle is running at high speed.
HYDROSTATIC GUIDEWAY CONSTRUCTION
■ R.W. lower slider (infeed axis) is a hydrostatic guideway construction design. This provides various features such as extremely smooth and fast sliding movement, high precision feeding accuracy, and stable grinding accuracy.
■ The lower feeding axis is driven by a servo motor cooperating with a harmonic reducer. The advantages are reducing backlash, increasing torque, improving grinding efficiency, and stabilizing precision grinding quality.
■ The minimum manual feeding amount of the micro-adjustment type device is 0.001 mm. In addition, the minimum feeding amount can be set by numerical control to 0.0001 mm which can meet the precision requirements of various components.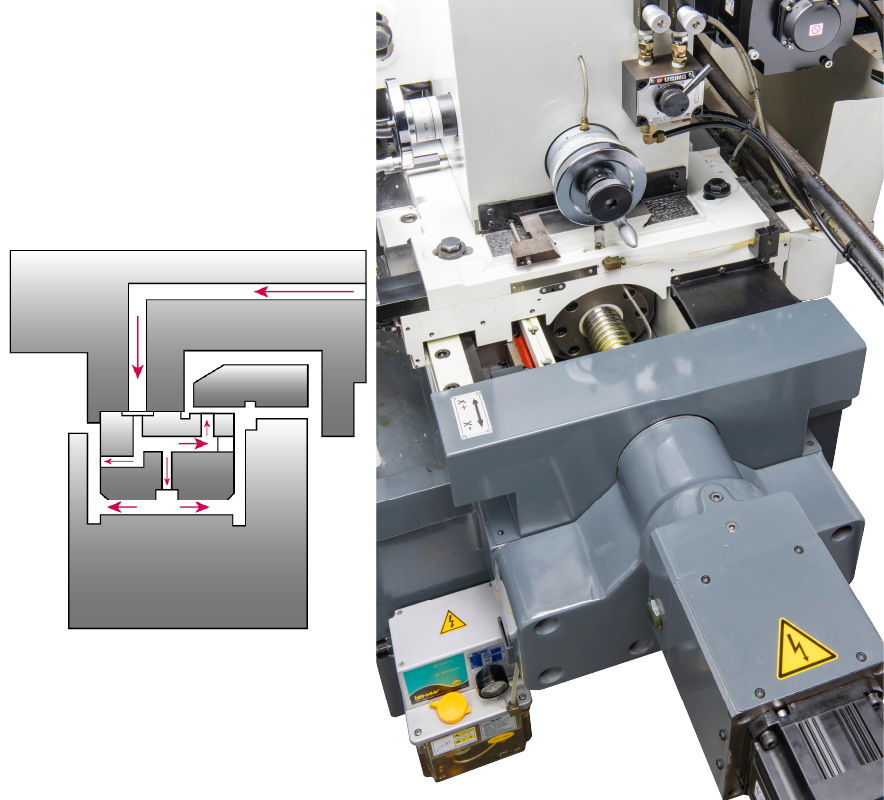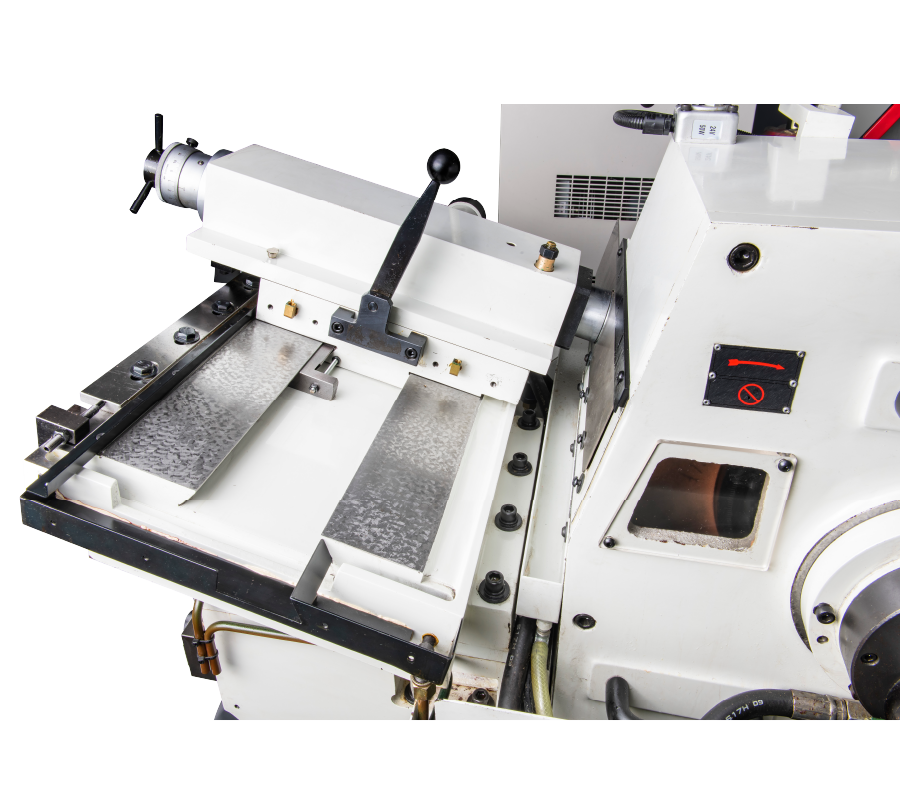 STABLE GRINDING WHEEL AUTO. DRESSING UNIT (FOR 1-AXIS ABOVE)
■ The lower slideways of the grinding wheel dressing seat are designed as a concave dovetail structure. This design combines with an extra-large sideway to greatly improve the stability of the grinding wheel device.
DRESSING DEVICE OF R.W. & G.W. (FOR 1 AXIS)
■ Dressing structure is made of special alloy cast iron and is heat treated for wear resistance.
■ The dressing device is driven front and rear by hydraulic pressure, and it can also be matched with a servo motor for profile dressing.
■ Variable dressing speed.
■ The Dressing device of R.W. can be adjusted according to the components' requirement to ensure the accuracy of the cylinder.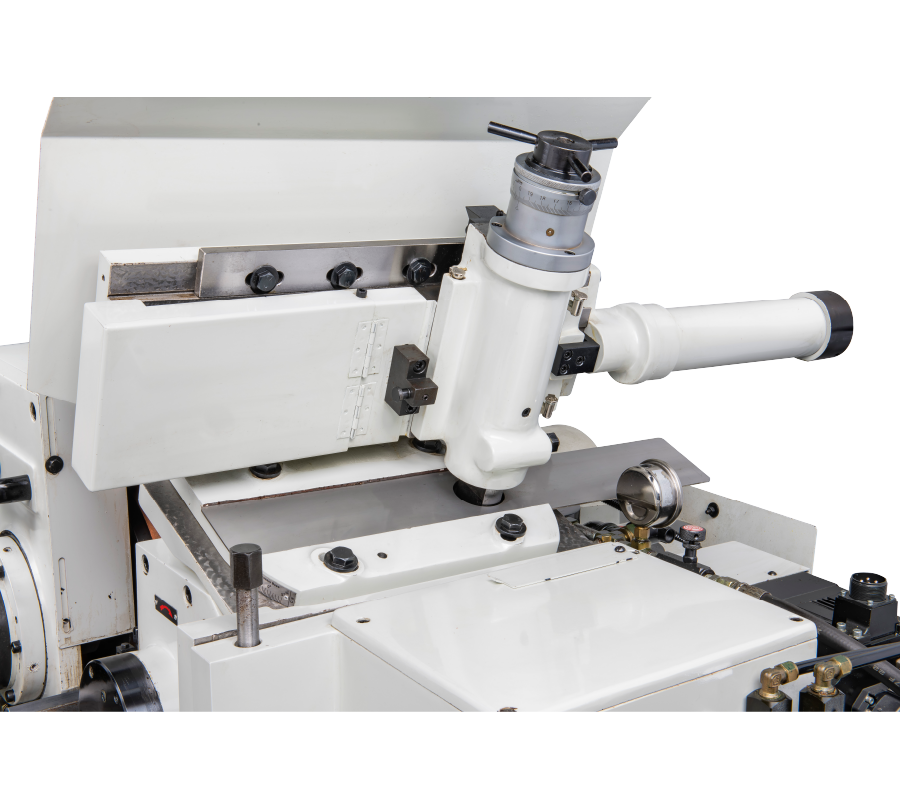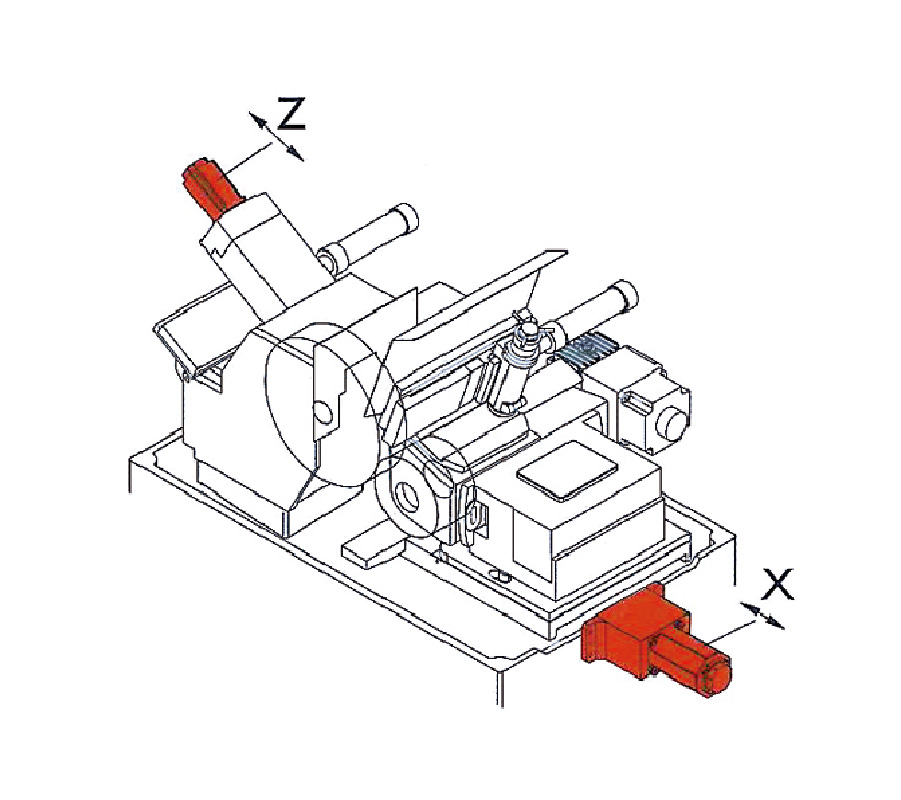 AXIAL COMBINATION FOR NC SERIES
■ One axis: X-axis: R.W. lower slide auto. in-feed control
■ Two axes: Z-axis: G.W. auto. dressing (Vertical) / X-axis: R.W. lower slide auto. in-feed

SPECIFICATION
Capacity
Standard Grinding Range (dia.)
Ø1 ~ Ø45 mm
Max. lnfeed Length
205 mm
Auto. Infeed Min. Increment
0.0005 mm
Grinding Wheel
Size (O.D. x Width x I.D.)
Ø455 x 205 x Ø228.6 mm
Linear Velocity
45 m/sec
Regulating Wheel
Size (O.D. x width x I.D.)
Ø255 x 205 x Ø127 mm
Speed
10 ~ 300 rpm
Tilt Angle
+5° ~ -3°
Swivel Angle
±5°
Hand wheel Graduation
Upper Slide Feed
4 mm/rev. (0.05 mm/graduation)
Lower Slide Micro-Feed
0.08 mm/rev. (0.001 mm/graduation)
Trimming Device
2 mm/rev. (0.01 mm/graduation)
Drive Motors
Grinding Wheel
7.5 kW (4P)
Regulating Wheel
3.5 kW (servo motor)
Hydraulic Pump
1.5 kW
Coolant Pump
0.18 kW
Hydraulic Oil Chiller
0.37 kW
Lower Slide Feed Motor (X-axis)(NC one axis)
1.0 kW
Tank Capacities
Hydraulic Oil Tank
90 L
Coolant Tank
100 L
Machine
Dimension (L x W x H)
4560 x 2200 x 1950 mm
Net Weight
4300 kg
* The mentioned specifications & dimensions are subject to change without notice.
ACCESSORIES
---
STANDARD ACCESSORIES
■ Grinding Wheel and Flange x 1 set
■ Regulating Wheel x 1set
■ Infeed Work Rest and Carbide Blade x 1 set
■ Thrufeed Work Rest and Carbide Blade x 1 set
■ Diamond Tools (2 pcs/set) x 1 set
■ Electric System x 1 set
■ Hydraulic System (with an oil coolant and an accumulator) x 1 set
■ Coolant System x 1 set
■ Work Lamp x 1 set
■ Tools (Leveling Pad) and Tool Box x 1 set
OPTIONAL ACCESSORIES
■ Wheel Balancing Stand & Arbor
■ Profile Grinding Attachment
■ Grinding Wheel Ionization Dressing Device
■ Hydraulic Work Ejector (Infeed Grinding)
■ Manual Feeder For Infeed Grinding (Up and Down)
■ Auto. Loading Attachment (Thrufeed Grinding)
■ Automatic Feeder (Thrufeed Grinding)
■ Auto. Unloading Attachment (Thrufeed Grinding)
■ V Type Supporter for Long Bar Grinding
■ Auto. Loading and Unloading Attachment (Infeed Grinding)
■ Vibratory Feeder (Thrufeed Grinding)
■ Fully Splash Guard
■ Magnetic Coolant Separator
■ Paper Filter
■ Hydro cyclone Coolant Separator
VIDEO
---